Top Reasons Why Hardwood Flooring is an Excellent Choice
Posted by Aaron Schaalma
Hardwood flooring without a doubt adds character to a home, but the sleek and clean look they create shouldn't be the only reason why you should consider them.
Here are the other surprising benefits of installing hardwood flooring in your home.
Eco-Friendly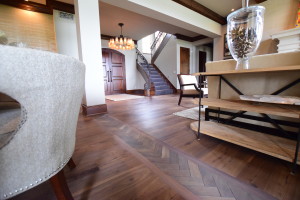 Wood is considered the most renewable flooring material because it lasts for centuries; this material doesn't need to be replaced as often as other flooring materials. Trees are abundant and can be regrown. The harvesting of trees does very little damage to the environment and   less energy is expended during the process. Additionally, wood floors produce better air quality, according to the US Environmental Protection Agency.
Easily Adjustable
Wood is a very agreeable building material, and we use different finishes and techniques in hardwood floor installation which enable us to match your floor to your home's period of architecture. The other special touches we add, like medallions and inlays, season hardwood floors with the complementing features that make them so truly unique.
Little Maintenance
We never leave a job site messy, and during our floor restoration processes, we use dustless sanding techniques to make sure of that. By using quality-branded equipment, your floors receive a smooth, pristine finish and the area is kept spotless for longer, meaning you can enjoy your nice clean floors for a longer length of time, too. UV curing also makes floor maintenance easier on you, as this process provides extra resistance against scuffs, scratches, and chemical abrasion.
At Signature Custom Flooring, LLC., we consider ourselves to not only be experts of the trade, but more fittingly to us, artisans of the trade. We deliver hand-crafted excellence with each installation we complete. Take a look at our online portfolio today to get a better sense of who we are and what we can accomplish in your home.