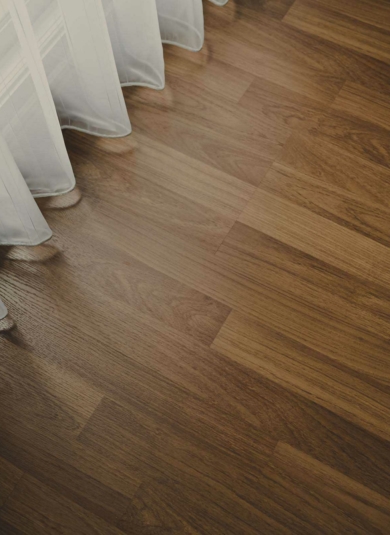 Popular Topics
Frequently Asked Questions
Refinishing
If you decide to DIY your floor refinishing, it may take a couple of weeks or more depending on your regular work schedule.
The length of the hardwood floor refinishing process depends on many factors including the amount of floor that needs work, type of finish used, humidity and weather conditions.
From the initial sanding until you can bring your furniture back into the room, it can take about five days. But if you need to use the room immediately, choose our UV-curing that sets the finish immediately so you can start moving in furniture the same day the job is completed.
Safe for kids, the environment, and Fido.
With state-of-the-art equipment and materials you can rest assured that your hardwood refinishes are non-toxic and environmentally friendly. Don't worry, they're safe for children, pets, and anyone you care about.
Enjoy your new home with a peace of mind.
Non-toxic
Environmental-friendly
Safe for children and pets
Before I sand the floor, I ask that you clear everything off of it. Sanding generally takes up to 4-5 days on an average size floor.
Dustless sanding is possible because I have invested over $25,000 into state-of-the-art sanding equipment to keep your home free from dust. It's so clean you won't even know I was there…except for the amazing floor, of course!
Pricing bespoke wood flooring projects depends on the service you choose, the wood you select, square footage of your floor, and more. To give you an accurate estimate and a range of options and ideas, schedule a consultation.
I'm not the cheapest option, but I strive to be the best. Every one of my original floors is backed by my meticulous attention to detail, great pride in my artistry, and by the NWFA Standards followed.
We can provide photos of color samples on the floor.
Yes. We can create custom colors to match your existing hardwoods.
A room must be furniture-free before we can work.
If multiple rooms are being refinished, furniture will have to be stored in other rooms or even in your garage. It may be best if you and your family stay elsewhere during the process.
That depends on your expectations.
If you're expecting a floor that looks brand new without scratches, dents, dings, or spots with worn finish, then refinishing is the best option. This before and after of a red oak refinish is a good example. If you don't mind small scratches, dents, or areas with worn finish, then recoating is the best option.
Service Areas
We provide stunning wood floor refinishing services in most major cities within Wisconsin:
Consultation