Hardwax Oil Finishes
Posted by Aaron Schaalma
Regular wear and tear can cause a hardwood floor to lose its shine over time, but there's a solution. Hardwax oil gives floors a clean, velvet look and feel. If the wood is healthy and there aren't many imperfections, scratches or scuffs, a coat of hardwax oil may be all that's needed. Hardwax oil can bring flooring back to life, but please keep in mind the oil type must match the original oil used on the floor. If the floor has a polyurethane finish, you will not be able to apply hardwax oils.
What are the benefits of oils?
You want your hardwax oil to hold up against everyday wear and tear. You shouldn't have to worry about your oil finish drastically fading after a few months. Let's face it, accidents happen. A cup of water or coffee is bound to spill, and hardwax oil is made to handle spills such as these. If the floor is oiled properly, spills will bead up as rain does on a waxed car.
How do I know which oil to choose?
There are different types of hardwax oils on the market, such as water-based, UV and natural finishes. Through experience, we have found hardwax oils are easy to use and deliver the best results, as well as being environmentally friendly and easier to maintain. To keep your floors protected, we recommend that you apply manufactures maintenance oil every six months to a year. Also, have a professional come in and re-oil the the floor every three to five years.
Floor with Magic Oil 2K
What we use
Signature Custom Flooring uses Magic Oil 2K by Pallmann and Rubio Monocoat Oil Plus 2C, two great oil finishing products. The Magic Oil 2K is composed of natural oils and waxes, which can be applied to any color stained floor. Its unique, two-component finish produces a uniform matte surface, hiding dirt and water from the casual eye. The Magic Oil 2K is suitable for all wood floors, including solid, engineered and solid cork flooring. It's also rated for use on radiant heat floor systems. Its rapid drying properties allow refinishing to be completed quickly, making it a great product to use for commercial and residential purposes. Natural Magic Oil 2K will cure in 12 hours, and colored Magic Oil 2K will cure in 24 hours.

 The Rubio Monocoat Oil Plus 2C is environmentally friendly, containing zero volatile organic compounds (VOC). VOCs release hydrocarbons into the air as the finish is curing, contributing to interior air pollution. Some oils contain high amounts of petroleum and mineral remnants, which can lead to irritation of the skin, eyes and throat, and cause damage to the brain or nervous system, so this product with no VOCs is great! Rubio offers other products to create unique floors. See more here.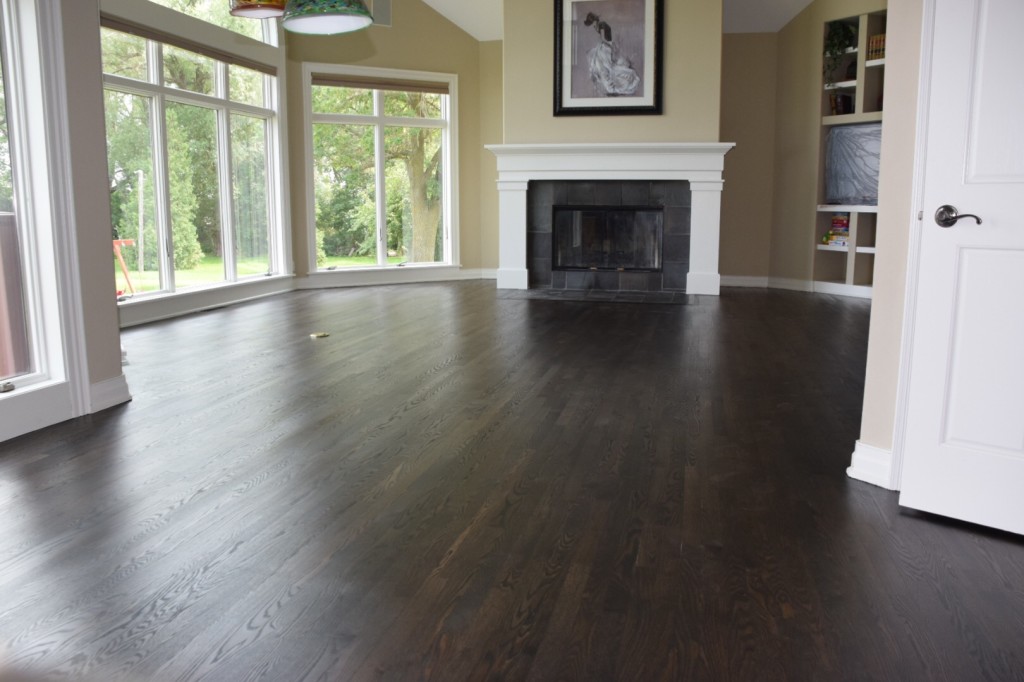 Floor with Rubio Monocoat Oil Plus 2C

The Oil Plus 2C speeds up the curing time and helps protect against spills and wear and tear. This water-free oil protects and stains through a molecular bonding process. It's available in 46 different colors, ensuring a match to your home's decor. Due to its high quality and revolutionary zero VOC technology, this product can be a bit pricier than other hardwax oil finishes.

If you're thinking about giving your floor another coat of oil, give us a call at (920) 279-7871. To learn more about the products we use and our services, visit our website.