Stained Maple|Green Bay, WI
Posted by Aaron Schaalma
We were recently called to take a look at a floor in Green Bay, WI. The homeowner had removed the old carpet from this bedroom and hall. He wanted the floors refinished and stained a medium color. The floors had been carpeted for years and were in desperate need of being refinished. The finish that was on the floor was orange and the wood wasn't able to shine through and be the star of the room.
Before This customer wanted the maple flooring stained. Staining maple can be done with the right expertise. We've stained maple floors and they turn out very consistent in color. To help the customer choose colors, we do one of two things. We either use a sample board which has three color samples on it, or we do the samples on the floor like we did for this job. This gives the customer realistic color options from which to choose.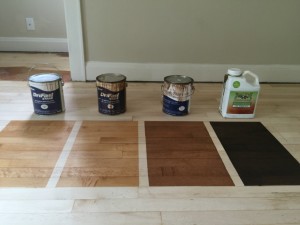 The color this client chose was Special Walnut. This color looks really sharp on maple flooring, giving it a warm, brownish tone. With the warm colors on the walls and the white trim, this floor really "pops," making this bedroom and hall a very warm, inviting space.
After If you have any questions or would like to discuss an upcoming wood floor project, feel free to contact us. We'd be more than happy to talk with you. "After seeing the bad shape my floors were in, I was doubtful they would ever look "amazing," but Signature Custom Flooring did a fantastic job! I would absolutely recommend hiring Aaron. I'll for sure recommend him to anyone that needs their floors done." -Robert Orde, Green Bay, WI