STUNNING HARDWOOD FLOORING REFINISHING IN AND AROUND STEVENS POINT, WISCONSIN
Posted by Aaron Schaalma
Here at Signature Custom Flooring, our passion is all things hardwood. And we love creating custom hardwood floors that are truly works of art. 
We offer:
-Hardwood Refinishing 
-
Hardwood Installation
-
Hardwood Recoating
-
Hardwood UV Curing
But in today's post, we're going to focus on some of our favorite (and did we mention gorgeous) before and after hardwood refinishing projects that we've done in Wisconsin.    
We are located in Stevens Point, but we service Fox Valley, Green Bay, Wausau, Central Wisconsin, Madison and everywhere in between.
So if you live within a 110-mile radius of Stevens Point and are interested in restoring the beauty of your hardwood,
let's chat
. Or if you'd rather talk with our owner, Aaron, directly (we are all about a personalized experience) give us a call at (920) 279-7871. 
Transform your floors into a masterpiece with Signature Custom Flooring. 
Why we love hardwood refinishing
Hardwood, in general, is usually one of the most environmentally-friendly options for flooring. This is due to the fact that it's one of the only flooring options that doesn't require you to replace it in order to change the look and feel of your space, unlike carpet, linoleum, or
luxury vinyl plank flooring
. 
There are endless possibilities to update your hardwood floors with different types of stains, finishes, and textures. 
Hardwood refinishing can also save you money, add value to your home, and sometimes even reduce upkeep and maintenance. 
So if you have hardwood that you don't love or you are just looking to update the feel of your home, refinishing your floors is a great option. 
Below are a few of our favorite before and after local hardwood refinishing projects here in Wisconsin. 
Red Oak flooring repair and refinish in Weston, WI
This project took place right after the new owners purchased the house. They wanted to remodel the kitchen, and while they really loved the red oak, these oak floors needed to be repaired and updated. 
Sometimes during a remodel, floors can be damaged. In this case, the floors already showed some wear and tear, but after removing the island in the kitchen, their floor was in need of even more love and attention. 
The clients wanted to create a more modern feel. So we repaired all the damage and finished them with a dark brown color that has a bit of grey undertone due to the matte finish we chose. This gives these red oak floors the perfect mix of classic and modern. 
And we really dig them, don't you?
From old and worn to
like-new
wood floors in Berlin, WI
This house had pre-finished floors that were about 10 years old and showed lots of wear. We decided to keep them natural without staining them. 
Why you ask?
Some people prefer a natural finish, but in this case, we chose not to stain them mainly due to the client's active lifestyle. 
In some cases, staining a wood floor darker can show more dirt. So staying the course with a natural color is perfect for busy people that don't want to have to worry about their floors showing signs of use.
We also used a water-based sealer and a matte finish that aided in preserving the floor's light and natural look. This really lets the variation of colors shine through while giving the client the durability they wanted. 
In the after photos you can see that the worn spots are gone and all the wear is essentially non-existent, leaving these floors looking good as new. 
From traditional to whitewash modern hickory floors in Appleton, WI 
We really love local Wisconsin wood, like hickory. So we were excited about this project. 
These old hickory floors were also updated during a remodel (pssst remodeling is one of the best times to restore your floors). The owners wanted to get away from that traditional golden look that this hickory floor was stained..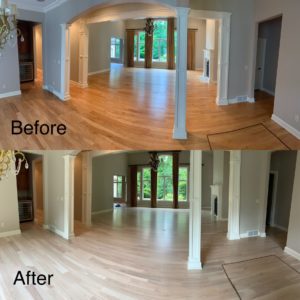 During our initial phone conversation, the clients mentioned they were looking for a lighter color to achieve more of a neutral, modern tone. With this information, we thought a whitewash would be the perfect way to go. So we brought a sample board of custom whitewashed hickory to the in-person
consultation
for them to see. 
And just like we thought, they loved it. It was exactly what they were looking for. The
whitewash over hickory
is not only stunning but also really opens up the space. And the satin sheen finish really drives home the modern look they were aiming for
. 
Traditional white oak to modern farmhouse chic in Wausau, WI 
This white oak floor was a traditional golden color and while beautiful, it doesn't always suit everyone's taste. The owners wanted to update the space to get that modern farmhouse chic look. To achieve this look, we did a stain, sealer, and two coats of finish. 
Why do all of this? 
Well because white oak contains tannic acid that can create tannin marks when using a water-based finish. 
And this is why it's so important to work with certified hardwood professionals when refinishing your hardwood. This ensures that you're going to get the exact look you've been Pinterest obsessing over.
We were able to achieve the perfect dark brown color with grey undertones that contrasted well with the light walls and made the space really pop. 
UV-finished birch wood floors for more durability and less downtime in Rib Mountain, WI 

One of our favorite things about working with wood floors in Wisconsin is all the local varieties we have to choose from. 

In this case, our clients had birch floors that were about 10 years old, which were coated with a finish that had changed colors from a semi-transparent to an almost yellow color. These birch floors also showed signs of a lot of wear and parts of the floor squeaked when they walked on it. 

So the first priority was to fix the sub-floor so they no longer squeaked. This part was a bit labor-intensive, which required us to screw through the joists at an angle from the basement to catch the sub-floor and pull it back down into place. 

We then added subfloor adhesive along the joist and subfloor. 

Then it was time to repair the scratches and dents with our

dustless refinishing process

and finish them off with UV curing. 

The reason for the UV finish was two-fold. 

First, they had dogs and wanted something strong that would protect against future dents and scratches. 

And second, since this birch flooring was in their kitchen they wanted to be able to get back on the floors as quickly as possible, which UV coating is great for. 

[caption id="attachment_3316" align="aligncenter" width="300"]
These birch wood floors where all scratched up and dated. Now they have a more modern look[/caption]

This project is a great example of how floors can be transformed into something new without having to rip them up and start over. And not to mention, usually more cost-effective than starting over and definitely more environmentally friendly. 

Up-cycling anyone?
Traditional golden to dark maple floors in Appleton, WI 
These maple floors were the epitome of traditional golden color. And while beautiful, the client wanted something darker. 
So we updated the floors to a rich dark brown color, which completely changed the feel of the space. 
And that's the really cool part about hardwood floors; you can completely change a space by restoring and updating your existing hardwood floors. Whether they are five years old or 100 years old, we can restore them to their original beauty or change their color, texture or feel to whatever suits your taste. 
Refinishing your hardwood offers versatility and is one of the best ways to transform your home.
Engineered hardwood floor update in Berlin, WI
This engineered floor had a medium, almost yellow tone to them, but the client wanted to go lighter for a more modern feel. So we ended up doing a whitewash over these engineered floors to create a lighter floor that maintained the rich golden tones. 
As you can probably tell, we love whitewashed floors and they are one of the top
hardwood trends
of 2020 for good reason. 
Whitewash allows us to lighten the color of a floor, while allowing pieces of the original floor to shine through. This can create a beautiful modern look
that can really open up a space. 
Signature Custom Flooring is here for all your hardwood refinishing needs 
As you can see, remodeling your home is the perfect time to refinish or update your floors. So if you're planning a remodel in the future and are in a 110-mile radius to Stevens Point, WI, we'd love to help you complete your remodel with the perfect wood floors that you've been dreaming of. 
And if you aren't remodeling, no worries, you certainly don't have to wait for a remodel to update your hardwood floors to make them into the work of art you've always wanted. 
Quality, style, and superior customer service with Signature Custom Flooring.