The Best Vacation Home Hardwood Floor Options And Tips For Maintenance
Posted by Aaron Schaalma
Vacation home hardwood floors are tricky to choose and care for because you want something that looks good, but is also low maintenance. Folks in Minocqua, Eagle River, Rhinelander, Saint Germain, Park Falls and other cities in Wisconsin are beautiful places to have a summer vacation home or "second home" getaway. And I get it, who really wants to spend vacation time worrying about their floors! In this post, I put together some of the best options for vacation home hardwood floors, as well as some tips on how to care for them. Contents: What Is The Best Wood Flooring For A Vacation Home? Care and Maintenance for Vacation Home Hardwood Floors Conclusion
What Is The Best Wood Flooring For A Vacation Home?
Most of these vacation or summer cottages are waterfront homes. The proximity to water is a very important factor when choosing vacation home hardwood floors. There are a couple types of wood you should consider for a vacation-home-worthy wood floor.
Solid Wood
Solid wood is the ideal type of wood flooring for vacation cottages and houses. But out of the solid wood species I'd recommend white oak, ash, walnut or red oak for waterfront vacation houses.
Engineered Hardwood
I recommend engineered wood for any wood choice wider than 4 to 5 inches, and furthermore, avoid using engineered wood with planks wider than 12 inches unless you go with very stringent wood. For the extra cautious, electronic monitoring systems can be installed just below the wood. This tracks and shows the temperature and level of humidity of the flooring and an app is used to see just how much it fluctuates. So if you go with engineered hardwood it's important to keep the flooring tight and maintained at ideal temperatures and humidity levels. Engineered flooring prevents "movement" especially in homes by the water with more humidity. The risk with low quality engineered flooring is the phenomenon of "dry-popping" where the humidity level will cause the core to shrink and cause the top layer to shrink with it.
Care and Maintenance for Vacation Home Hardwood Floors
Because air, humidity, and temperature variations will occur if the area isn't utilized on a regular basis, maintenance and care will require extra care for vacation property hardwood floors.
Humidity Control
Humidity control should be a major concern but there are ways to regulate humidity. The AprilAire system is the most well known installed furnace for the winter. Most vacation homes have basements so be sure to have a dehumidifier and an AC unit that runs during the summer. Another factor that most people may not think about is the surrounding bushes, shrubs and drainage around the house. These elements also add to the moisture level in the basement.
Temperature Control
Try to keep the temperature maintained at a consistent level. For example, I wouldn't drop the temperature too much during the summer even if you won't be home. This will always be better for longevity of your wood floors.
Sunlight Control
Sunlight control is another factor that folks may not necessarily think of when it comes to maintenance of hardwood flooring. This goes back to what species of wood you choose because certain species are more susceptible to sunlight. For example, white oak or ash will not be as susceptible to sunlight. On the other hand, walnut, engineered Maple and hickory will change color. The type of sealer can help. So using a stain (pigment) and clear finish will help lock in the color. Additives (UV blocker) to the finish is definitely an option. However the only problem is that it absorbs only so much UV and then after a few years will have to be recoated. A practical way to control sunlight is to cover the windows themselves with blinds or apply film directly on the glass to block the sun rays.
Conclusion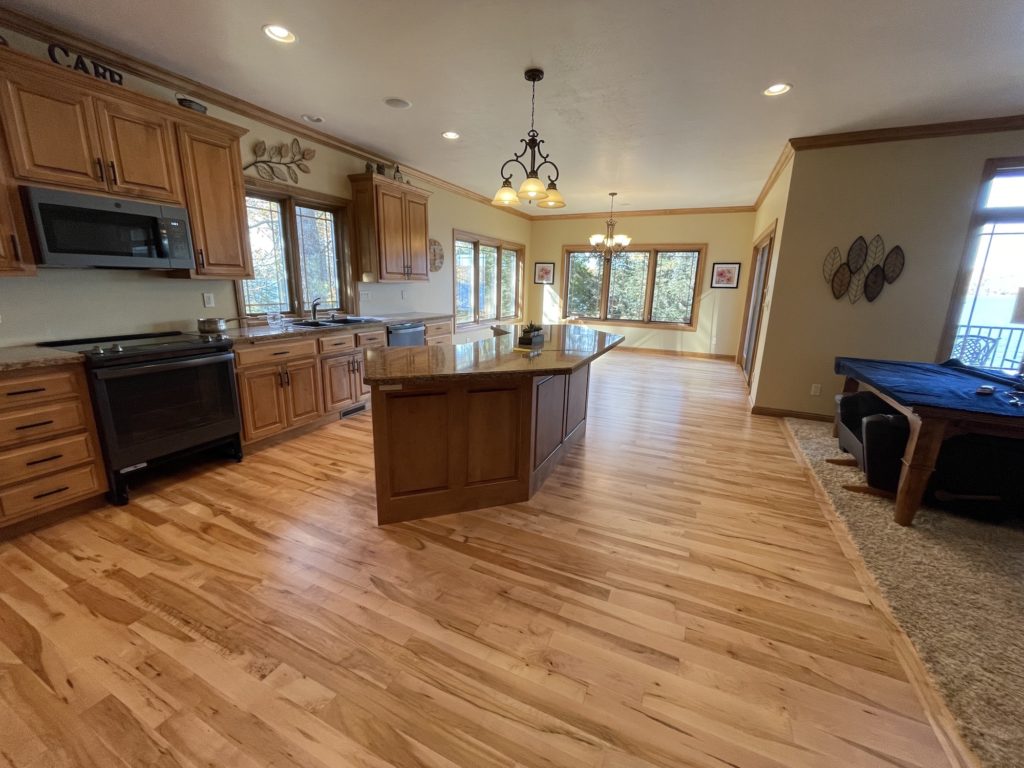 The choice and maintenance of wood floors in vacation homes are very important. If you take the time to do it right, you can enjoy your vacation home for many years to come without worrying about the floors. Just remember these key factors:
Choose the right type of wood flooring for your vacation home (solid vs engineered)
Consider the humidity and temperature conditions when choosing and caring for your hardwood floors
If you are away from your vacation home but need a floor refinished or installed while, find someone you can trust and is qualified to come and get the job done.