Whitewashed hickory flooring | Appleton, WI
Posted by Aaron Schaalma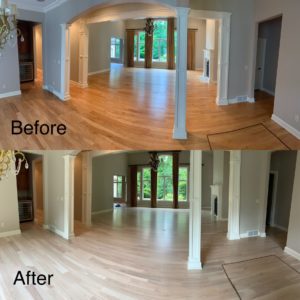 One of the things that I love about real hardwood flooring is the ability to take it from its current style and color, and transform it into a work of art that is unique to the customer. One of our more recent projects in Appleton, WI demonstrates this perfectly. Our customers had recently purchased a new house, the current floor was hickory with a very traditional light gold stain, and they wanted to update the style to make it more modern.

During our initial phone conversation with the customer, we learned that they were looking for a much lighter color to achieve more of a muted tone. 

With this information in hand, we created a sample board of custom whitewashed hickory and brought it to the in person consultation for the customers to view. This particular look gave the space such an airy feel and something that was customized to their exact liking. Hardwood flooring is unique, in that it is one of the only flooring products out there that does not require you to replace it in order to change the color, unlike carpet, linoleum, or

luxury vinyl plank

flooring. This is one of the things that makes wood flooring such a fun medium to work with.

[caption id="attachment_3250" align="alignleft" width="200"]
This is the sample board we showed the client during our initial consultaion[/caption]

We started this transformation by removing the old finish and exposing the beauty of the natural Hickory flooring. After the initial sanding, we noticed an area of discoloration in the floor caused by a large area rug. Hardwood in general tends to change color over the years due to natural aging and its exposure to UV light, among other factors. After assessing the severity of the discoloration, we were confident that with the proper sanding techniques we would be able to blend this area in with the rest of the floor and achieve a uniform color to apply our stain.

[caption id="attachment_3251" align="alignleft" width="300"]
Here we water popped the floor to open up the grain of the wood. This will allow the stain to penetrate evenly.[/caption]

Before applying the stain to the floor, we finished our final sanding process, and then prepped the floor through a process called water popping. This process is essential as it opens up the wood grain in the floor allowing the stain to penetrate the wood, resulting in an even tone across the entirety of the floor. Without this process, some areas of the floor could appear splotchy as the wood grain would remain closed off from the sanding process not allowing the stain to soak in to the hardwood. After this was completed, it was time for the amazing transformation to really take place.

[caption id="attachment_3248" align="alignleft" width="300"]
This is what the hickory looks like with just stain applied to it.[/caption]

We began our next process by staining the natural hickory floor with a custom white stain to mute the natural brown tones and create a more uniform palette. After the stain had dried, we made a custom-color sealer to apply to the floor to protect it and complete the whitewashed look. For the finish selection, we used two coats of a two-component commercial water-based finish. The homeowners have two small children, and the flooring that we refinished is in a high-traffic area, so we decided to use the two-component finish which will ensure that this floor will age well for the many years to come

The beauty that shines through these wood floors is just one of the many signature looks that we are able to create.The ability to take an average wood floor, and through the use of skills and experience, transform it into a work of art is something I will never tire of. Whether your floor is hickory, maple, walnut, or any other species, I want to be the one to create the signature piece for you that is uniquely your own. If you have a specific look that you're wanting, contact us to see how we can create a signature look for you!