Why choose Signature Custom Flooring
Posted by Aaron Schaalma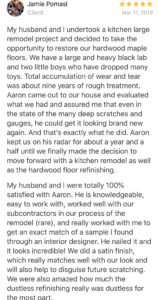 Why choose Signature Custom Flooring

 

Have you been dreaming of new hardwood floors or refinishing your old ones? Maybe you have spent some time researching, looking at pictures and even posting them on Pinterest… And now you need a flooring guru to see you through your hardwood journey.

 

That's where we come in.

 

We're a small, artisan hardwood flooring shop ran by our owner, Aaron. And he loves to help folks just like you make their hardwood dreams come true.

 

So what sets us apart?
 Superior customer service As a small business, we truly care about our customers and are willing to go above and beyond to make sure they have the best flooring experience possible.

 

And Aaron really prides himself on giving his customers a personalized experience and that go-the-extra-mile customer service.

 

What exactly does this mean? It means that Aaron will be the one talking to you on the phone, and the one that comes out to your home to get to know you and your hardwood hopes and dreams. He's also the guy who's going to be making customized recommendations as to what hardwood flooring options are best for you and your space.

 

You see, other companies might send someone else out to do all of this for you, which means you might not get the highest-quality person in your home.

 

And you don't want that for your hardwood.

 

After all, hardwood can be a big investment-- totally worth it, though! (You can find out more about why hardwood is the way to go here.) So make sure your floors are exactly what you've been dreaming of. This means picking the right hardwood flooring shop to collaborate with is of the utmost importance.

 

You should be comfortable with your contractor and feel like they're a good fit for you and your hardwood project.

 

Excellent customer service also means that you never have to feel overwhelmed during the process.

 

You've probably heard from friends and family that a flooring renovation can be a hassle.

 

We know this because we've seen it and heard it all before… Which is why we offer the best support possible so you can rest assured that you'll have a positive experience and one of the best hardwood flooring specialist out there helping you and working with you every step of the way.

 

The truth is you would be hard-pressed to find the same level of consideration, experience and customer service from other flooring companies. Especially big box stores.

 
  Certified craftsmanship

 

When deciding on a hardwood expert, it's important for you to look at their work and their certifications. Both will aid in choosing the perfect flooring shop for the job and will also help ensure that you'll receive top-notch work.

 

We encourage you to ask questions about certifications and look at before and after photos for any retailer you are considering.

 

What kind of certifications should your contractor have?

 

Well there are different certifications so you will need to figure out which particular certifications you would like your flooring guru to have.

 

At Signature Custom Flooring, we offer both NWFA certified and Bona certified craftsmanship. What's NWFA certified craftsmanship mean? Well it's like a college diploma in hardwood floors. It takes years and high-quality work to gain this certification. But unlike a diploma, NWFA Certification can be taken away. So if the work doesn't meet precise standards for quality workmanship, you won't be able to maintain the certification.

 

It also requires continuing education, ensuring that your NWFA craftsman is skilled at the latest practices and is achieved by passing both written and hands-on tests. What does A Bona Certified Craftsman offer? Bona Certified Craftsmen get rigorous hands-on training, offers a 5-star advantage (which is like an insurance policy for your floors), and are trained to give you environmentally friendly choices as well as a dust-free (you can find out more about dust containment here) sanding options.

 

 

Certified NWFA and Bona craftsmanship mean that you can expect a great experience, stunning floors, a clean worksite, and the highest standards of craftsmanship available.

 

That we can promise.

 
Wide selection of hardwood flooring options

 

Are you looking for an unforgettable experience with the opportunity to make your hardwood floors into more of an art project than a home improvement one? If yes, then we're here for you. This means we offer flooring possibilities that you won't be able to find anywhere else. And we'll give you some of the most unique, beautifully customized flooring options out there.

 

We can do this because we offer local hardwood choices AND the option to tailor them to look exactly like you want with different textures, finishes, and stains.

 

Maybe you want oak floors because they are local and you like everything about the floors, but you want them a little lighter. We can stain (or dye them) them to make them the color you want (or even add some texture for a little extra customization).
Or you already have exotic wood floors in your house and they have ambered over time due to the naturally occurring oils in the wood. But you really like the look of grey wood. Do you have to replace your floors? Nope. We can refinish them and color them grey to get rid of the amber color and create a whole new and truly unique look, no problem.

 

Just because you already have hardwood floors in your house doesn't mean that you have to keep the same color, finish or even texture.

 

Deep down we really see ourselves as artists. We take pride in giving you one-of-a-kind gorgeous hardwood floors. As Aaron always likes to say,

 

"Wood flooring is our art and your floors are our canvas." Imagine coming home to those beautiful custom floors you've been drooling over.

 

Get your complimentary consultation for custom floors in your house today by calling 920-279-7871
 Hardwood Floor Installation Another thing we feel that really sets us apart is the fact that Aaron personally does all of our installations himself.

 

It's can be hard to find an owner of a hardwood flooring store that will be there for the initial consultation and throughout the entire process until the installation is complete. A lot of professional hardwood flooring retailers usually work with a professional installer, but not at Signature Custom Flooring.

 

We have our own professional installer in the form of a do-it-all owner and artist.

 

And Aaron will make sure that your house and floors are properly prepped for the installation. This will ensure acclimation so your floorboards don't cup or even worse, separate.

 

You can see there are serious potential risks of poor hardwood installation. But you never have to worry about that with us because we'll make sure everything is done to the highest standard, leaving you mess and worry-free.

 

Just a quick, mention-worthy note here: people seem to wonder if a job is too big for a small shop.

 

And the answer we always tell our customers is, there's absolutely no need to worry about this as Aaron has done jobs as big as 4,000 square feet (yep, you read that right).

 

So not only is there no concern with how big your project is, but you can rest assured that your floors are in great hands with Aaron.

 

Plus he loves a good challenge.

 

So if you would like a free personalized consultation, click here and find out how Aaron can turn your home into the space that will have you (and everyone else) swooning.

 

Ok, great! But what happens after I sign up for a consultation?
 Our Process

 

We will get back in touch with you to set up a time to come out to look at your space. We will spend 30-90 minutes meeting with you in your home, sharing wood samples and showing you our work.

 

We will also take humidity readings to determine the best wood for your home, and tell you our suggestions. Then we will send you a detailed proposal covering all the discussed options and plans.

 
 How Much Does It Cost? Pricing depends on several factors like the service you choose, the wood you select, square footage of your floors and more. To give you an accurate estimate and a range of options and customized ideas, please call or request a free consultation here or check out our blog on hardwood refinishing cost and tips.

 

We may not be the cheapest option, but we strive to be the absolute best.

 

Quality over anything else, always.

 
 Lastly, supporting local businesses means supporting the community.

 

Shop local has definitely become a buzz-term lately… You can't go anywhere these days without hearing, "shop local",

 

But really, why shop local? Well besides it being the more economical and environmentally friendly option, it's also a great way to support your local community and economy.

 

When you shop at big stores, your money is going to just that-- a big store. But when you go with a local, your money is supporting a local business owner and your money also stays in the community and the economy.

 

And local businesses often source products from regional manufacturers and distributors, which means that customers can rest easy knowing that they are supporting the American industry and their community by shopping local.

 

When considering your next home improvement project, consider if you would be happier supporting a local business and receiving the personalized experience that only they can offer.

 

It's not just about the economy (although that's a great reason), but also about what kind of hardwood flooring adventure would you like to have? Because with the right hardwood flooring shop, it will be just that-- a pleasant and exciting adventure. Still wondering if we're the right hardwood flooring expert for you? Take a look at some of our work.

 
We've done over hundreds (well closer to 1,000 than 100, but you get the point) of hardwood flooring project and yes, you guessed it-- Aaron was the one leading the way on every. single. one.

 

And we've worked with all types of wood with a wide variety of expected outcomes, and we also get the job done with super satisfied customers.

 

You can check out some of our awesome reviews on Houzz here.

 

Your happiness and satisfaction (and stunning floors) really are our priority. So if you're looking for handcrafted luxury flooring… Look no further.

 

Now you can hop back on Pinterest and start digging out all those photos of your "perfect floors" and give us a call to get your complimentary consultation today.

 

We look forward to working with you to make your hardwood dreams a reality.