Wisconsin Wood Floor Refinishing and Installation Projects in 2021
Posted by Aaron Schaalma
There are many different types of wood floors to choose from and each type has its own pros and cons.
 So I understand it can be very helpful to see real examples of wood floors that other folks envision and have contractors complete.
This post does just that and features Wisconsin wood floors done in 2021. I provide photos and descriptions of each refinishing and installation job. Overall for 2021, traditional colors and styles like maple and red oaks are being refinished into natural, lighter tones while brown/greys are still on the rise in popularity.
 Hope you enjoy the variety of projects sampled from my work all around Wisconsin!
Contents:
Appleton Wood Floor Jobs
This home originally had tile throughout the entire home. I had to remove the tile then installed 2 ¼ maple floors. 
I moved on to tint these floors so that it blends in with the older existing maple floors. With a UV cured finish the clients were able to move back in as soon as the job was completed.
Fond Du Lac Wood Floor Jobs
This was a red oak floor install and finished with LED hardwax oil (which means the hardwax applied and then an LED machine was used to cure it, allowing instant access to the floor).
This home originally had carpet installed in the center of the living room. This trend was popular in the 90's and was starting to show its age.
 We added an exotic feature strip separating the new and old wood. I finished it with a Rubio Monocoat to give it that matte unobscured look. 
Fox Valley Wood Floor Jobs
This Fox Valley home used to have carpeting in their living room. 
This setup defined the 2 spaces and cut up the flow. I installed new red birch flooring and tied it in with the existing floors. I refinished the floors which brought the beauty of red birch back to life!
This homeowner in Fox Valley didn't like the red tones in their American Cherry floor. 
 So I came up with a plan and process in changing the traditional red tones of the Cherry floor, to a modern white tone. 
 The process was double bleached with a white pre-color then a white penetrating oil on top to get drastic results.
Historic Neenah Wood Floor Jobs


This house in Historic Neenah where I added some white oak flooring and then refinished the existing floors. 
 It's only fitting to use a product like Rubio Monocoat to give it that historic look.
Marshfield Wood Floor Job
This job we got to refinish some rift and quartered white oak flooring. Not a floor you see a lot in WI. 
 The beauty and stability of R/Q is so unique, and a fun project to refinish.
Madeline Island Wood Floor Job
This project was a fun one! From riding a ferry, to enjoying the beautiful sunrises of Lake Superior! 
 We installed this new ash plank floor and steps. Finished them with Rubio Monocoat. I absolutely love the warmth of ash flooring.
I got to enjoy this beautiful sunrise from Madeline Island - a nice little perk for some of these jobs!
Madison Wood Floor Jobs
Originally a red exotic color in the Madison area. I did a custom brown/grey tone to achieve this look. 
 It accompanies the style the clients are going for.
Oshkosh Wood Floor Jobs
I had the privilege of working on a historic house in downtown Oshkosh along Washington Avenue. 
 This was a white oak floor that was refinished with Rubio Monocoat. I kept it light and in style with the area of this historic house.
Stevens Point Wood Floor Job
That was all hand-cut herringbone white oak plant (5in) finished with Rubio Monocoat. 
 We did this space without a border to make the room feel larger and not distract from the space.
Waupaca Wood Floor Job
This installation of a white plank wood floor was for a Waupaca kitchen remodeling project.
We finished it with a penetrating oil which gave it an ashy beach feel. This result is perfect for a home on the chain of lakes.
I also worked on the stairs by installing a square nose which adds to a more modern look that was finished with a penetrating product.
Wausau Wood Floor Jobs
Maple Floors
This project was a maple floor refinish that I did with a dark penetrating oil. Notice this floor has a bit more of that matte sheen look.
Previously, this floor had a yellow tone that I was able to change quite nicely. 
Hickory Floors
Another job in Wausau was this hickory floor that was done with a grey/beige tone. 
This one was finished with a UV-finished coating allowing the clients to move their furniture back in that evening.
This was a picture the client sent me that evening of what the space looked like all decorated.
A third job in Wausau was another hickory install.
We installed new flooring to match with existing floors on both levels of this home.We worked with the client to come up with this really cool brown/grey custom color.
It really changed the way this home looked and felt.
Wautoma Wood Floor Jobs
This was a newly constructed house in Wautoma. The client chose a random width plank hickory floor. 
It features a nice natural finish with a lot of color variation through the wood.
Wild Rose Wood Floor Jobs
This was a fun hunting style cabin that I got to refinish for the kitchen remodel. The kitchen now features an all natural hickory wood floor.
Wisconsin Rapid Wood Floor Jobs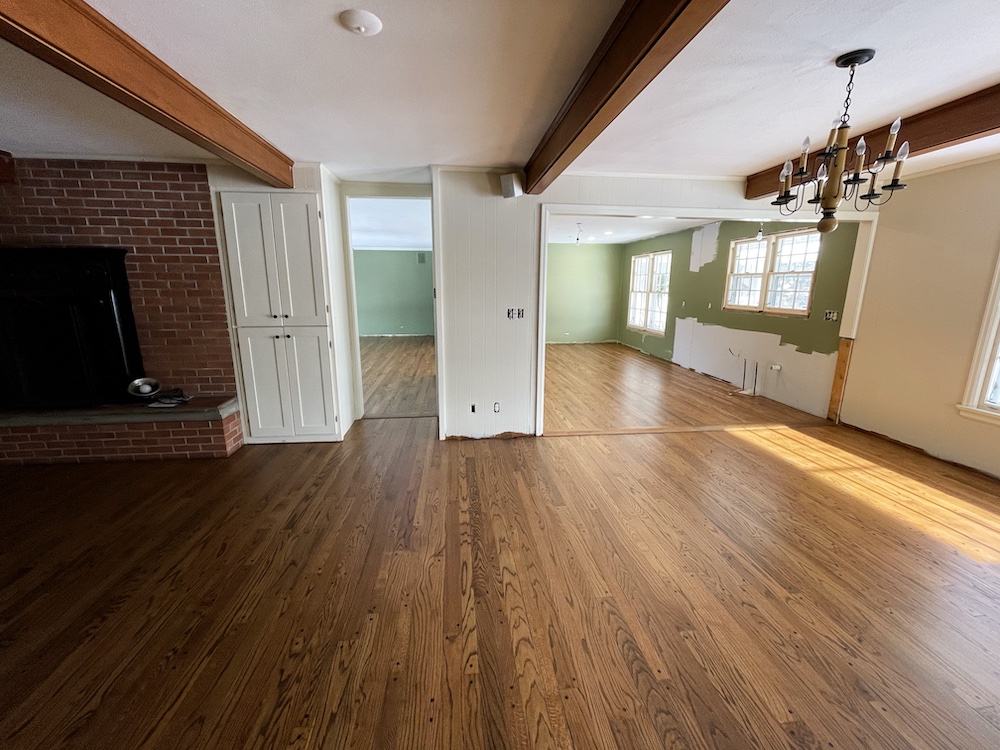 Another kitchen remodeling project. I added new flooring in the back part of the house. 
You can see in the front part of the picture how the floor has walnut plugs in the end of the flooring. The clients wanted to match that same look with the new flooring. We where able to have the flooring custom milled and then had to install all of those walnut plugs by hand. 
This job was also UV cured, giving the clients instant access to enjoy their home.
Here's a finished result photo of a home in Wisconsin Rapids with new 2 ¼ red oak wood installed throughout the home.
I also came back to finish a couple of the bedrooms at a later time. Wood floors are timeless.
Conclusion
As you can see, I saw a lot of the traditional colors of red oaks and maple wood in Wisconsin. 
Trends leaned toward brown/greys along with some of the natural and lighter tones throughout these projects from 2021 and early 2022.