What Is The Current Trend In Hardwood Floors in 2022?
Posted by Aaron Schaalma
Note: This article was originally written in May, 2021 and updated on January 13,  2022.
Hardwood floor trends don't tend to change much every year, but new pictures and opinions from around the country may inspire you for your next big project.
Is there a true trend in the country? Sure I mean you can tell over a span of say, a decade or so. The fact is that location matters. Popularity and opinions vary from region to region within the US.
More and more people are beginning to love hardwood floors in homes. We love natural floors and love making a living by providing the best natural wood floors for our clients! So let's get straight to the point so you can glean professional recommendations and feed on some visual inspirations.
This guide is not meant to be exhaustive nor redundant so that you get an easy to read overview with all the essentials to get you started.
It's my personal perspective as a professional hardwood floor craftsman. I look at both what I'm seeing locally in the Midwest and around the country, so keep in mind the simple fact that this guide is to help discover your personal taste that shouldn't be determined by a guide.
Contents:
Most Popular Hardwood Floor Colors
If you are anything like me you love color! Whether it's more modern tones to very classic brown tones, hardwood floor colors make a big difference in the overall look of your space.
In fact, knowing how colors can make or break a space is crucial. What are some of the color trends for 2022? Many of the same trends from 2021 carry over into 2022, but some noticeable difference has been bolder and blends of varied colors.
At least it seems here in Wisconsin, wood floor colors take a while to catch up to trends that are happening elsewhere like in New York and California.
Before getting into regional wood floor color trends, you probably want a general direction of color choice. The following chart shows the base wood floor colors. See where you land with color preference, then utilize other trends besides color, such as stain and refinishing options.
Let's have some fun with analyzing color trends by region. We'll take a look at some of the color trends we are seeing here in Wisconsin and then let's bring in some friends of mine that are in the wood floor business from around the United States and take a look at what they are seeing for trends.
Here's a simple reminder for those on a hunt for a perfect wood flooring color: No matter what the trend is, ultimately you want it to be a color that you want and not necessarily a trend that other people have.
Bold Varied Color Blends
There have been more requests for a bit of color variation for hardwood floors. Below is work done to a newly built home with brand new hickory wood and features a nice dark and light color variation.
The next living room originally had carpet. We added a nice border around the center to add an accent, installed hickory wood with some color variation and then finished it with Rubio Monocoat.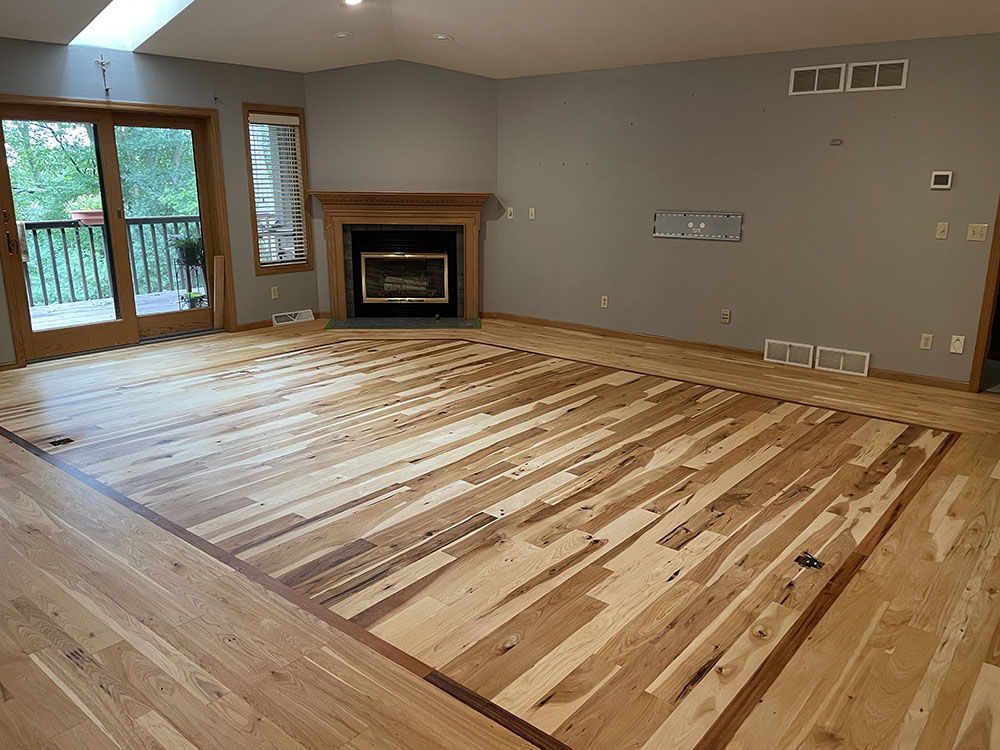 Light colors
Here in Wisconsin, natural, lighter tones have been gaining popularity as mid century modern and Scandinavian styles are appearing. They offer a light airy feel to a space and give you a beachy to sometimes chic modern look.
Especially now that product technology has improved, there are sealers that keep the wood tones lighter and natural, compared to the old oil sealers and finish that would turn the floors a golden amber hue. You can never go wrong with a natural floor.
Blonde Wood Floor Colors
Blonde wood floors are the classic light color. If you're not into dark, blonde is still becoming one of the most popular light wood colors on the market. You can use blonde in just about any room of a home since it goes well with so many styles.
Honey Colored Hardwood Floors
You can consider going from the lightest (blonde) to something a little darker with honey colored floors. Honey wood floors offer that hint of warmth to create a more inviting and cozy atmosphere in your home.
Whitewash Wood Floors
White washing of floors seems to be making a comeback in Wisconsin as well. It mutes some of the wood tones and can create a look that compliments many types of decor and spaces. I've seen it done with grey trim, and it looked fantastic!
My buddy, Marcos from CMC Hardwood Floors says about California:
"They've been doing a lot of lighter color floors including sanded oaks to keep things sunny and vibrant."
Light Color Inspiration from Wisconsin:
Light Color Inspiration from California:
Light Color Inspiration from Missouri:
Ben from Kimminau Wood Floors says this about color trends in Missouri:
"Grays have simmered down and are not as popular.  Dark walnut has been the number one stain for the last 7 years. The number one thing clients request when we refinish their floors..."can you remove the yellow/orange tint?"  This explains the popularity of dark browns with no red and Loba invisible finish."
Will Lighter Colors Stay Trendy?
I find that folks generally want to open up their spaces, but it all depends on personal taste and the kind of space you have. Lighter colors tend to open up your room and compliments darker elements in the room like dark colored cabinetry.
I doubt natural and light will ever go out of vogue. This is after all, natural wood! Natural wood colors are timeless. These clear sealers and finishes have No yellows or orange hues. This definitely seems to be the trend all over the country.
Grey Hardwood Floors
Grey is here to stay.
I know when grey tones first started to come out there were just the classic grey colors. Those can be a little too grey. I now see a variety of grey brown combinations in Wisconsin. The mixture of the two colors creates these smokey brown tones that add another level of intrigue to a space.
Brown/Grey Inspiration from Wisconsin:
Brown/Grey Inspiration from Wisconsin:
Alexandra from Farmington Valley Flooring describes New York and Connecticut floor colors:
"We are seeing invisible/natural matte and/or a slight tint of white and more accessible browns with maybe a hint of gray in them. I don't think anything too crazy… no bright whites and no super dark/ebony!"
Grey Inspiration from California:
Dark Hardwood Floor Colors
Dark colors are still a growing trend usually among more modern, elegant and wealthier homes since it's high maintenance (watch for dust accumulation!).
More extreme dark colors will blend into the grains which many modern homeowners definitely prefer because it adds to the uniqueness of having natural wood without it looking as traditional.
There are some who even dare to go for a black wood floor stain:
Typically, we see customers who prefer the dark walnut or classic coffee browns as an alternative to super dark, but blending is always an option too. Darker shades can be cooled down with greys.
Inspiration from Wisconsin:
Brown Hardwood Floor Colors
Brown wood floor colors have gradually moved away from red/yellow warmer hues. It's not just in Wisconsin. It seems like people are looking for a beige look that is possible by adding grey. It's not an easy job, but I'm happy to do it!
For instance, I'm getting more requests to refinish red oaks with cooler greys and brown floors are being mixed with greys to lighten the overall atmosphere of the room.
This grey/brown variation is for sure going to be a popular request both for installation and refinishing jobs around the country.
Inspiration from Wisconsin:
Hardwood Floor Stains and Finishes
Satin Finish
I personally see satin finishes requested more increasingly around the Wisconsin area. It's less about low sheen. Satin is still in and it's not just in Wisconsin. The trend from gloss to more matte finish continues throughout the country.
Satin is a perfect middle ground finish between glossy and matte finishes. They're easier to clean and protects against dust and scratches. Who wouldn't want that? It gives off a mellow shine and is not as flat or boring as matte.
Satin finishes are going to last since it's a perfect balance of matte and gloss.
Wood Floor Natural Oil Finish
Over the last few years natural oiled wood floors have become more popular. 2022 continues with an uptick in hardwax and penetrating oils. I have been doing natural oiled floors for over 7 years. I've been doing them long enough that I've gone back to re-oil them. I've gotten to see how well the product has held up over time. I've had hardwax oils in my own house.
I've been getting requests to use oils from Rubio Monocoat and Loba Impact Oil lately which I highly recommend. It seems people really want to enhance their investment in hardwood floors by ensuring protection against things like spills and foot traffic.
This draw to natural and raw texture is more felt around winter time since many of us have been inside more.
This was something new in 2021 - I also use LED cured hardwax oil such as LED Hardwax Oil from Vesting.
Oiled wood floors bring out a richness and natural look. Plus it adds to the longevity and durability of the wood.
Remember I mentioned in 2020 that oiled wood floors do not need to be refinished. The process simply involves adding more oil, so there's no need to re-sand!
Hardwood Floor Material Trends
This isn't necessarily a trend, but people are trying to preserve existing hardwood floor material in their homes. For instance, maybe you just bought a new home in 2022 and you just want to match the wood and conveniently add onto the already existing floors.
I'm not sure about other parts of the country, but I do get why some folks in Wisconsin want to approach their project this way. I could see the practical side of it; why rip out wood when it's still got some life to it? Or maybe it's becoming more popular to add onto older wood and this makes it a creative opportunity to add something a little different to complement existing floors. Vinyl planks, although popular as hardwood alternative isn't the best in my humble opinion.
Comment below if you're in a trend-setting region or just an entirely different region and share what kind of materials or textures you've been seeing for 2022.
Wide Planks
These are wood planks wider than the typical 2 1/2- to 4-inch wide boards. This trend to wider planks have been on a steady rise in the past decade.
Some local shops offer reclaimed and salvaged wood for wide planks. Check local wood flooring stores in your area that offer custom and unique wide planks.
If you're looking to either enhance the modern feel of your contemporary home or enhance the authenticity of an older home, wide planks are a great option.
However, due to the limited trees to produce such wide boards this option is going to be expensive. The upside is that it can also add to your home's real estate value.
White Oak Hardwood
pictured above: herringbone pattern
I've noticed that white oak is super popular not only here but really all over the country. It's a beautiful color ranging from brown to beige. It also adds a nice modern feel to any home.
Check out this helpful list of 7 benefits of installing white oak.
Hickory
Hickory wood with natural muted tones and a clear coat is still growing in popularity in Wisconsin. It's the densest wood floor you can get in North America, and its hardness and durability makes it a perfect floor for a busy home for families.
If you're looking for hickory flooring, Sheoga offers some of the nicest sourced hickory hardwood floor material.
Maple Floors
Maple still proves to be popular. Many Wisconsin homes have maple wood floors and people want to either match or add onto their existing maple. The one thing to remember about maple is that it changes color as it ages. If you are adding maple into an existing floor, it may be best to add a stain to blend the old and new together. 

Red Oak
I'm seeing an interesting trend of people adding two and a quarter inch strips of red oak to existing wood instead of ripping it all out. This wood color adds warmth to any room but it always depends on the type of finish.
Read about red oak vs. white oak pros and cons if you need to narrow down your final choice of material.
If you're already in the market for red oak, look no further. Infinity offers the famous North Wisconsin Red Oak.
Red Birch
Back in the early 2000s, many higher end homes in Wisconsin had existing red birch. People in Wisconsin are also matching/adding with red birch. This is a light brown with a tinge of red. It's also very durable and family friendly like maple.
Inquire about red birch from Aacer Flooring, a local family-owned business in Peshtigo, Wisconsin.
Conclusion
Even if hardwood floor trends and preferences change, we hope that you choose natural wood floors for your home in 2022. You can change the style, color and mood with refinishing and restoration services. Make it your own and make it beautiful, because it's your home.
As we like to say, "the home is where the art is."